Adexenia'21
Adamas International Interschool Fest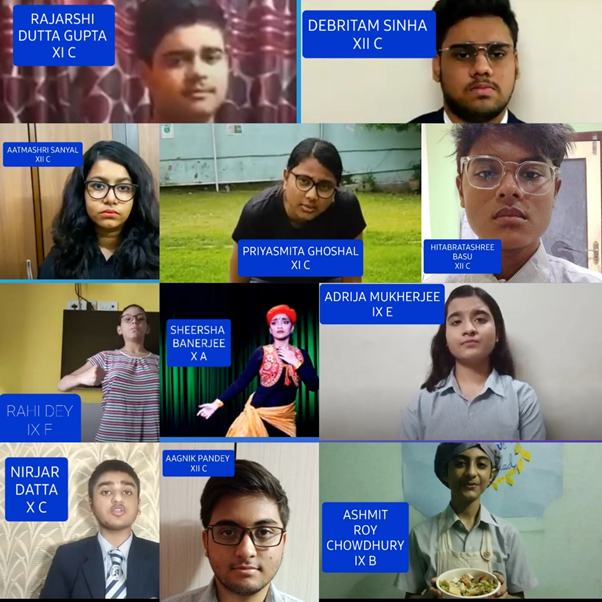 Garden High School recently participated in Adaxenia 2021, an Interschool Fest organised by Adamas International School. Thirteen schools, including the host school, participated in the fest which was held online due to the ongoing pandemic. There were 7 events in which GHS took part and came out with flying colours in 4 of them. All the events, except one, were pre-recorded events. The participants had to record their performances and the recorded video files were sent to the host school by 28 July 2021.
Only Ada Create (Art competition) was a live event that was conducted on Zoom on 3 August 2021.
The events and the names of the participants who participated in them are as follows:
ADA VOICE:      ADRIJA MUKHERJEE (IX E)
ADA MOVES:   SHEERSHA BANERJEE (X A)
ADA CREATE:   AAGNIK PANDEY (XII C)
ADA VISION:    NIRJAR DATTA (X C)
ADA ACT:          RAHI DEY  (IX F)
ADA NOSH:      ASHMIT ROY CHOWDHURY (IX B)
ADA VERT:        AATMASHRI SANYAL (XII C), HITABRATASHREE BASU (XII C), DEBRITAM SINHA (XII C), PRIYASMITA GHOSHAL (XI C), RAJARSHI DUTTA GUPTA (XI C)
The results were declared on 6th August 2021.
Garden High School secured the 1st position in 2 events:
Ada Vert (ad making): The team comprising 5 participants tackled the challenge of creating an advertisement for a product that a consumer would need in 2050. They came up with the unique idea of 'I-Tacle': Smart Spectacles for the Smart Generations.
Ada Act (mono act): Rahi Dey from IX F won the first prize with her spirited monologue on her 'Aspiration' in life.
Adrija Mukherjee (IX E) secured the second place ('Runner Up') in Ada Voice (singing competition) with her beautiful rendition of 'Paaye Pori Bagh Mama', in keeping with theme: Celebration of the works of Satyajit Ray.
Sheersha Banerjee (X A) secured the second place ('Runner Up') in Ada Moves (dance competition). Dancing to a medley of songs and tunes composed by the maestro Satyajit Ray, she conveyed through her performance an impactful message on the futility of war and inspired one to dream of a better world.
Garden High School also secured the Champion's Trophy, together with the host school. We heartily thank the student representatives, Arnesh Chowdhury and Aryaveer Das from class XII B who helped the teachers and the students all through the preparatory phase.