Congratulations Anusha !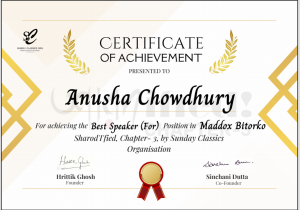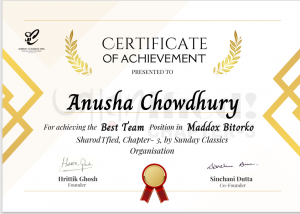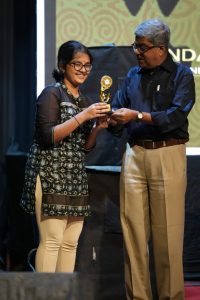 Anusha Chowdhury of Class IX participated in the 'Maddox Bitorko', a debate event organised by Sunday Classics Organisation (a not-for-profit group aimed at spreading art, entertainment, and education), at ICCR, Kolkata on Sunday, 18 September 2022.
The motion of the House was 'Celebration of Durga Puja is a hindrance to sustainability'. Mr. S V Raman, programme consultant to Victoria Memorial, judged the debate competition.
Anusha was adjudged the 'Best Speaker' for the motion along with a cash prize. She also won the 'Best Team Award' along with her partner speaking against the motion. The prizes were handed over on 15 October 2022 at Satyajit Ray Auditorium, ICCR.
Congratulations Anusha !