Congratulations to Sagnik Ghorai !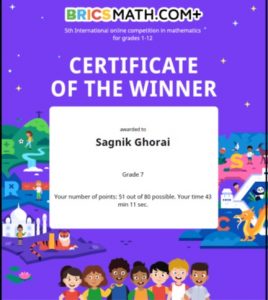 Sagnik Ghorai, student of Garden High School, Class VII D, participated in the Bricsmath International Mathematics Competition, and was awarded 'CERTIFICATE OF THE WINNER'.
This competition brought together children from 7 countries (Brazil, Russia, India, China, South Africa, Indonesia and Vietnam).
Heartiest congratulations to Sagnik !