Inter-House AD making Competition: Class VIII
Garden High School conducted an Inter-House 'Ad Making Competition' for students of Class VIII. The event was pre-recorded and students with their innovative ideas introduced different kinds of futuristic learning devices in their ad films. The judges were Susanta Das Gupta, an advertising and communications professional and Abhishek Ganguly, an independent filmmaker and creative consultant.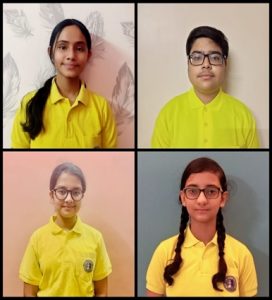 Cedar house developed a portable Wikipedia, 'Walking Wikis'. Their device was developed to access a storehouse of information in an immersive 3D projection.
The team comprised: Tannistha Pathak (VIII A), Shreyan Chakraborty (VIII B), Rishita Mazumdar (VIII F) and Anusha Chowdhury (VIII E). (Clockwise from left to right in picture.)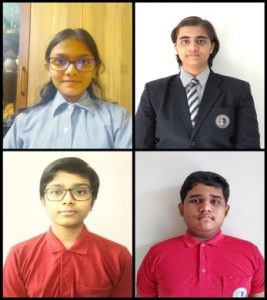 Oak house designed 'smart gloves' which can interpret hand gestures and sign language into audible human speech. Their learning device was aimed to reach out to all those who deserve to be heard.
The team comprised: Titas Sengupta (VIII E), Anjistha Das (VIII E), Siddhartha Santra (VIII A), and Ayushman Dey (VIII B). (Clockwise from left to right in picture.)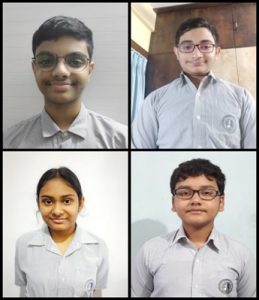 Chinar House innovated an electronic device 'Study Buddy', to aid the students in their learning process. The device can be used with / without an internet connection, helping students clear their queries and doubts.
The team comprised: Anubhav Biswas (VIII B), Ayush Roy (VIII D), Sagnic Chowdhury (VIII E), and Aritri Basu (VIII F). (Clockwise from left to right in picture.)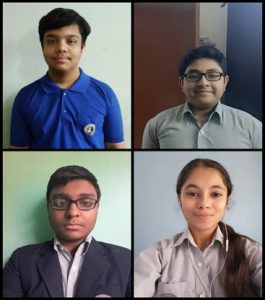 Palm House reinvented the method of teaching science through their fully simulated virtual laboratory solution 'Alpha Labs'. The virtual laboratory simulator will enable students perform laboratory experiments from any part of the world.
The team comprised: Rishaan Gupta (VIII C), Dwisojeet Pandit (VIII D), Rupsa Goswami (VIII A) and Kingshuk Biswas (VIII A). (Clockwise from left to right in picture.)
RESULTS
1ST- CEDAR
2ND- PALM
3RD- OAK