Inter-House Spelling and Word-building Competition
Class III participated in an Inter-House 'Spelling cum Word-Building Competition' held online on Zoom on 29 January 2022. Each of the Houses was represented by a team of 2 main participants and a reserve participant. Cedar House was represented by Alekhya Roy (IIID), Suvan Maity (IIIC) along with Raunak Chatterjee (IIIB). Shreedatri Chatterjee (IIIA), Sumedha Ganguly (IIIA) accompanied by Brinda Saha (IIID) participated from Chinar House. Aahir Mondal (IIIA) and Sourjyadeepto Das (IIIE) represented Oak House, supported by Debadittya Mitra (IIID). The participants from Palm House were Samadrita Gupta (IIIE), Iresha Ghosh (IIIC) and Biboswan Das (IIIC).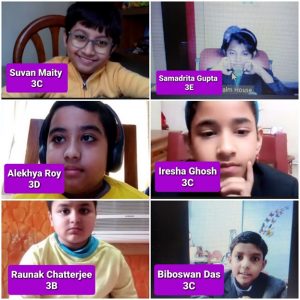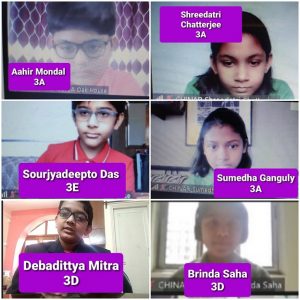 The competition comprised a total of four rounds covering topics such as spelling, unscrambling jumbled letters to form meaningful words, synonyms and antonyms, collective nouns and homophones.
The four rounds came to an end with Chinar House and Cedar House tied for the first position while Oak House and Palm House secured the third position jointly.
There was a short tie- breaker round after which Chinar House came out with flying colours securing the first position.
RESULTS
1st: CHINAR
2nd: CEDAR
3rd: OAK/PALM