JHANDI: SCOUTS AND GUIDES ANNUAL CAMP 2022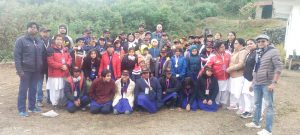 Click here or the image above to view the image gallery
After two years of the lockdown due to covid, the 2nd Explorers Group (Scouts and Guides) arranged an Annual Camp from 26 December to 30 December 2022 at Esti-Kutum, Jhandi, near Lava, Kalimpong, West Bengal. The three-day camp was attended by 40 students accompanied by 12 teachers.
To foster a sense of healthy competition, all Patrols (teams) vied for 'Best Patrol' award. This was decided based on points awarded for completing various activities. The winners were the Graceful Pirates Patrol in the Scouts section and the Lynx Patrol in the Guides section. We were tested on our 'Camp Spirit', which comprised discipline, punctuality, teamwork and coordination to mention a few. Our adaptation skills improved as we adjusted to the cold climate and varied schedules. This camp gave us an opportunity to hone our resilience, leadership and decision-making skills.
To take learning outside the classroom to the next level, the camp organized several activities such as hiking and following a trail, building a fire and cooking on it and evening campfire performances to showcase our creativity. We played several games such as a treasure hunt which needed both team as well as individual effort. An All-Faith prayer was also organized. The teachers guided and motivated us and went out of their way to make this camp a memorable one. This Camp was not only a thrilling experience but also a great learning opportunity for the Scouts, Guides, Cubs and Bulbuls of Garden High School.
Adrita Bhattacharjee
Class XIA