Vidyarthi Vigyan Manthan (2021-22)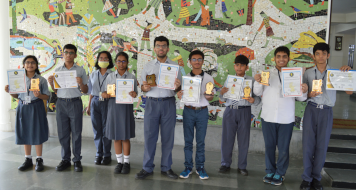 Click here or the image above to view the images…
VVM (Vidyarthi Vigyan Manthan) 2021-22, India's largest science talent search online examination using digital devices was held in the months of November and December, 2021. It was organized by VIBHA (Vijnana Bharati) in association with Vigyan Prasar, Department of Science and Technology, Government of India and NCERT, Ministry of Education, Government of India.
Sixty-one students from Garden High School, Kolkata, from Classes 6 to 11 participated in the examination.
Winners:
Aaranyak Ray 9E
Aayan Mukhopadhyay 7A
Ankur Ghosh 9D
Krishang Ganguly 8B
Raul Chowdhury 6E
Sanjukta Adhikary 9E
Somia Banerjee 6A
Soumya Ghosh 7B
Subhoshree Chakraborty 6A
State Level Winners:
Ankur Ghosh 9D (Rank 3)
Raul Chowdhury 6E (Rank 3)
All the participants of the State Level camp and winners were felicitated on 3rd April, 2022 at CSIR – Indian Institute of Chemical Biology, Jadavpur, Kolkata.
The state level winners, Ankur Ghosh (9D) and Raul Chowdhury (6E) received a prize money of ₹51,000 in the award ceremony held on 11 May 2022 at Indian Association for the Cultivation of Science – IACS Jadavpur.
CONGRATULATIONS TO ALL THE WINNERS !